Shopping Cart
Your Cart is Empty
There was an error with PayPal
Click here to try again
Thank you for your business!
You should be receiving an order confirmation from Paypal shortly.
Exit Shopping Cart
Please click on the link below to go to Giangi's kitchen blog who posted one of our recipes. Salmon with Vegetables in Parchment, August 22, 2013 by Giangi's Kitchen
http://giangiskitchen.com/2013/08/22/salmon-with-vegetables-in-parchment/
SUNDAY BRUNCH AT LA SERVIETTE BLANCHE
Brunch is known to be an "American" thing but, in recent years it has become increasingly popular in Paris.


French eat a very simple breakfast, usually a coffee and a croissant, but also locals are now enjoying a Sunday Brunch as many restaurants, hotels and cafes all over town offer special brunch menus.
Brunch article Paris
The menus can vary from homemade muesli to toast with smoked salmon, fruit salad, yogurt, oeufs brouillés, a French version of scrambled eggs but way better. Prices in Paris range between € 21.- to €49,-


At La Serviette Blanche here in Cannes, we recently introduced a refined brunch menu with a selection of delicious foods that will satisfy your palate. Our emphasis remains on fresh seasonal ingredients which are featured in all our dishes. From freshly squeezed orange juice to oeufs en cocotte, fresh jams, baked breads, toast with smoked salmon, French crepes filled with fruits or heavenly Nutella, homemade muesli etc. Our brunch menus change weekly.
For the upcoming summer season, we strongly recommend to book in advance as we have limited space available.
Our brunch menu: € 24,- p.p.
(for detailed information, please click on the Hidden restaurant button on the right hand side)


We also provide the morning newspaper for those guests who like to sit back, relax and enjoy reading their morning paper. It's a fabulous way to start your lazy Sunday.
Know how to cut French cheese Cheese etiquette
How to cut and serve French cheese.


Tasting cheese in France can be compared to a wine tasting. Cheese is traditionally served with bread, not crackers, which is used to cleanse your palate between bites of different kinds of cheese. Commonly start by tasting the mild cheese and advance to the stronger-flavored cheeses. In France, use a fork and knife from your own place setting (not a serving knife) to cut bite-size pieces.
Cheese is served as near to its original form (wheel, pyramid, cylinder, slab, etc.) as possible to preserve its integrity. If you are the first one to cut into a wheel of cheese, then you should cut a thin piece. The most flavorful section is the center (in France called the "nose" ) and when you slice, cut evenly and lenghtwise. This is also why you don't cut straight across the tip of a triangular shaped section of a Brie, for example, because when you cut off "le nez" (the nosetip) of the cheese, you deprive others from the delicious center. As you get closer to the rind, you will notice that the flavor changes.
PROVENCAL MARKET, ARLES
The market in Arles is considered one of the largest in the Provence. Shopping at a traditional Provencal market is an experience that should not be missed.


The Provencal markets are considered to be the best markets in France. They are generally open air and the best place to shop for your fresh seasonal food.
Marche Provencal in Antibes Spices Market Antibes Cote d'Azur
Every Saturday morning you'll find an enormous Provencale market on both sides of the broad tree lined Boulevard des Lices in Arles.

From the obvious Provencal produce like garlic, tomatoes, eggplants, olive etc you will also find Provencal pottery, various types of breads such as, Fougasse, a local specialty, to pre-assembled packets of fresh fish for the preparation of Bouillabaisse. Except for the fresh produce, you'll also find stands selling prepared foods like Paella, roasted vegetables and rotisserie chicken. And ofcourse a wide variety of fish from the nearby Mediterranean.
From Cannes by car, approximately 2 hours.
********************************
"Fete de Olive"
1 fete-olive2013 150 150 0
Cote d'Azur is known for it's great weather and beaches but there is more to do than just that. Saturday, February 16th, 2013 the Ville of Le Cannet will celebrate it's "Fete de Olive"

The avenue Maurice Jeanpierre in Rocheville (Le Cannet) will be lined with vendors selling an array of products like olives, local pottery and much more.

Don't miss this typical regional feast.
Lemon Festival in Menton, Cote d'Azur
Menton will be holding its 79th annual lemon festival from February 17th to March 7th 2013 Although lemons are grown throughout the Mediterranean, the city of Menton is internationally renowned. Below the link about the Menton lemons
Menton Cote d'Azur
Bouillaibaisse de Camargue
Bouillabaisse is a traditional Provencal fish stew that originates from Marseille. Based on the history of this culinary delight, it was created by Marseille fishermen who wanted to make a good meal when they returned to port. The name bouillabaisse actually comes from the method the stew is prepared. The ingredients are never added all at once. Before the different kinds of fish are added, the broth is boiled and then you add the ingredients one by one and each time the broth has come to a boil, the heat is lowered again.


What makes this soup so different from other fish soups is the Provencal herbs and spices added to the broth, the use of local fish from the Mediterranean, the fish which is added one by one in a certain order and the way it's served.
How can you tell it's a real Bouillabaisse? The ingredients used are: garlic, onions, tomatoes, olive oil, fennel, saffron, thyme, bay leaf, sometimes a bit of dried orange peel and not to forget the fish which should be a non-oily soft flesh fish and shellfish. So what are the 3 kinds of fish used in traditional Bouillabaisse? Red rascasse, sea robin or in French Grondin and conger. Usually it will also include shellfish and other seafood. Serving Bouillabaisse the traditional way: first the broth is presented in a bowl along with toast garnished with rouille, a sauce similar to aioli, with the fish and seafood presented on a separate dish.


A traditional good quality Bouillabaisse takes hours to prepare.


Photocredit: Marseille Tourism Bureau
TIP! .....Our recipe section is updated regularly with new recipes. Just click on the recipe section of the Foodie news.
***
What is a RATIO and the reason why it's important. A culinary ratio is a fixed proportion of one or more ingredients relative to another. These proportions form the backbone of the craft of cooking. Get this.....when you know a culinary ratio, it's not like knowing only one recipe but it's more like knowing a few hundred. For the classic vinaigrette recipe, please go to the recipe section on this website.
****************************
http://www.lacartes.com/business/La-Serviette-Blanche-/30138
****************************
Mediterranean Cooking
The Mediterranean diet is a market driven style of cooking and based on fresh, simple, healthy and quality ingredients rather then complex cuisine with time consuming recipes.
Fresh tomatoes Cooking Cooking classes
Great cooking starts with high quality ingredients. Here some samples of the Mediterranean shopping list.


Let's start with the star of the show:
Olive oil


Fresh seasonal fruits & vegetables Beans, fresh herbs, garlicPlenty of crunchy natural nuts and seeds which are good for you omega 3 fats Fiber cereal products Seasonings & condiments


Fresh aromatics.: here are just to name a few: pancetta, dry chorizo, potatoes, yellow & red onions, shallots, garlic, scallions, celery, carrots, parsley, lemons, oranges
Eggplant Market Cannes
Olive oil Mediterranean
Special Travel Trade Show, Amsterdam, Netherlands
The goal for this new "Special travel Fair" is to create an environment selectively chosen for quality, rather than mass tourism. Quality and exclusivity are the keywords of the various products at this fair.


La Serviette Blanche is proud to inform you that we will be represented by a Dutch based company, Vacaza.nl who will be offering our various culinary activities.
homeImg 1
For more information, please visit the website:http://www.vakantiebeursamsterdam.nl/index.html
or
Photo Beurs van Berlage
Tickets for this event can be purchased online through the vakantiebeurs website (see above)
During the Trade show, you can win great prizes when participating in the various drawings organized by the participants.
La Serviette Blanche is giving away a prize as well.


2012 is now behind us and we are looking forward to a promising 2013 with great opportunities and new developments.
**************************
2012/2013 New Year's Celebration
Photo Beurs van Berlage
La Serviette Blanche, together with close friends and fans, celebrated the New Year's festivities and firework show on Boulevard de La Croisette here in Cannes
********************************
THANKSGIVING DINNER 2012
On November 22nd, we had the pleasure to welcome a lovely group of guests to celebrate Thanksgiving in our diningroom at La Serviette Blanche.
Dinner Supper club Huiskamer restaurant Cannes La Serviette Blanche
A 4-course gourmet dinner offering a classic American Thanksgiving menu with a French flair.


The amuse bouche was the chef's surprise. Foie gras on caramelized apple, topped with prosciutto and a brush of balsamic cream.
Black Truffles from the Provence


Je dient Flash geïnstalleerd te hebben om deze pagina te bekijken.
Truffles: The Most Expensive Food in the World
European white truffles sell for as much as $3,600 a pound, but harvests are down and a black market has emerged -- none of which has dampened the appetite for this prized fungi. Lesley Stahl reports.
2-Hour Foodie Workshop, October 23rd, 2012
A group consisting of 12 guests, joined our 2-hour workshop yesterday. It's been the first time that La Serviette Blanche welcomed 12 people all at the same time.
Foodie worshop Table
As the lively group of ladies came up the stairs, they were invited to the salon where they received a glass of fruity Provencal rose.
After the introduction it was time to get started.
Workshop Demonstration
We prepared 4 popular French appetizers that are simple to make and the ingredients easy to find. These recipes are "stress free" and best of all, you can prep everything in the morning and get to spend plenty of time with your guests in the evening. How great is that!


Blackboard Pissaladiere recipe
We started with Brie en croute topped with fresh figs, walnuts and a drizzle of honey wrapped in puff pastry. In the oven for 25 minutes and the result: a gooey cheezy addictive appetizer that flies of the plate in no time! An ideal hors d'oeuvre on a cold winter night in front of the open fireplace, with crusty French bread and a good glass of wine. This dish is heaven for cheese lovers!
Blackboard Pissaladiere recipe
Adding one of our most popular appetizers, Sundried Tomato Tapenade was a must. Once again, it turned out to be a great hit!


For the pissaladiere, made with fresh dough topped with caramelized onions, anchovies and Nicoise olives. A dish that can be eaten as an appetizer or as a lunch main dish.


it's been a fun workshop with a lively group, good food and lots of laughter! What a great way to share your passion for food.
Bellet, one of the smallest appelations in France.
When serving good food, a glass of excellent wine becomes inseparable.
Rose Cote de Provence Wine
Bellet is a small appellation of the Provence wine region in south-eastern part of France. This wine was created in late 1941 and it produces red, white and rose wines from the hills around Nice.


Bellet vineyard is located just West of Nice where the slopes of the hills are so steep and ridged, that they cannot be used for any other purpose. This is the reason why the production is limited. They produce less than 100,000 bottles a year. Bellet wines are original, exquisite and of a very high quality.


Bellet carries the: Appellation Bellet Controlée


The white Bellet pairs well with shellfish and their red goes very well with game. As for cheeses, it pairs extremely well with Banon or Pélardon. Banon, a special and tangy Provencal goat cheese wrapped in grape leaves. An original cheese with great flavor.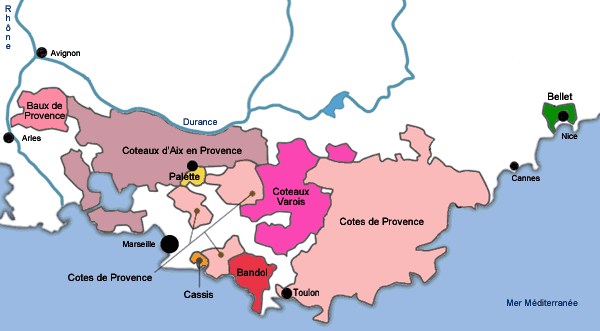 Bellet wines are difficult to find outside of France or even the region because it's largely consumed by the local market as well as the thousands of tourists who visit Nice and the area every year.


Here in Cannes, you'll find it at exclusive wine stores (cave) Price per bottle will run between 28,- euro's and up.
World Class Wine from Hungary
Tokaji Hungarian dessert wine
Tokaji Wine Co. Tokaji Aszú 5 Puttonyos (Hungary, Hegyalja, Tokaji


I came across a very nice blog, written by a wine lover and foodie, who writes about this famous Hungarian wine. While reading the blog, you travel through the Hungarian vineyards and you're almost able to taste this outstanding wine. A beautiful story of taste.


For more detailed information, please refer to the blog by clicking on the link below.


During my travels to Hungary a few years ago, I had the opportunity to taste the various Tokaji wines.


As they say in Hungary, it's a King's wine made for Kings. The more "puttonyos" it has, the better the taste.


http://winesutra-tokaji.blogspot.in/2012/10/s-z-e-r-e-l-m-i-my-final-edition-on.html
Cooking class lunch entree
Tokaji Hungarian dessert wine
Figue, chevre, fresh walnuts, chopped, prosciutto and a drizzle of vinaigrette and balsamic cream on mesclun salad makes a great entree.
Burrata


Everybody has their favourite foods and Burrata happens to be one of mine.


Burrata is a fresh Italian cheese, made from mozzarella and cream. The outer shell is solid mozzarella and the inside contains both mozzarella and cream which gives it a soft and unsual texture. When making Burrata, the still-hot cheese is formed into a pouch and then filled with scraps of leftover mozzarella and topped off with fresh cream before it's closed.


It's a product from Apulia and Murgia in Southern Italy.
Burrata Italian cheese
Fresh and gooey drizzled with high quality olive oil, cherry tomatoes, sea salt, freshly ground black pepper, julienned basil leaves and balsamic vinegar on a bed of roquette salad........simply delicious! The cream just oozes out once you cut into it. There are many different ways to serve this delicious dish but I prefer to keep it simple and serve it the traditional way like described above.
Caneles (delicious little cakes from Bordeaux)
Caneles de Bordeaux
You have probably seen these little delights before.


Canelé is a small French pastry, delicious and addictive with a soft and tender custard center and a dark thick caramelized crust. The dessert, which is in the shape of a small, striated cylinder is a specialty from the French region of Bordeaux. However, you can often find it in Parisian patisseries as well.


Canele is made from egg, sugar, milk, unsalted butter and flour flavored with rum and vanilla. The custard batter is baked in a mold giving the canelé a caramelized crust and custard-like inside.


Unfortunately you cannot eat it right away, it requires time and patience because the batter needs to rest in the fridge for at least 24 -36 hours before placing it in the special canele molds. A little patience required though but....... it is really worth the wait.


The Canelé is usually eaten for breakfast, as a snack, or as dessert.
Celebrating a delicious Mediterranean dinner
September, 19th, 2012 the diningroom was filled with laughter, singing and pleasant conversation over good food and wine. A group of local (Cannois) entrepeneurs made their way to La Serviette Blanche to get a taste of the supper club experience.
Guests enjoying dinner Diningroom Hidden restaurant Dinner 3-course menu
The 4-course Mediterranean menu was paired with a selection of great regional wines, from the Amuse Bouche up to the dessert. The subtle Chateau Roubine, cru classe, Cote de Provence was an excellent choice for the salmon.


Dessert: flourless chocolate cake with creme Anglaise, a classic that remains popular and always well received with chocoholics.
What a great evening!
Sustainable food
At La Serviette Blanche we believe and support sustainable food. It's important for people to know about the source of the foods they consume, how it's grown, raised, caught and prepared.
Vegetables Market
Our menu's are based on fresh seasonal ingredients, bought in the morning and prepared within hours of purchasing. We celebrate local seasonal and artisanal ingredients by buying directly from the local Provencal farmers.


The produce at Marche Forville in Cannes, is locally grown and the fruits harvested within hours before it gets on your table. Their flavors are authentic and vibrant, you can't beat that. A healthy environment and the great taste is why we choose sustainable food.


Studies have shownn that the longer the time between harvesting food and getting it on your table the more plant cells break down and sugars will turn to starches. As a result, a less vivid flavor and the loss of essential nutrients.


Supporting the local farmers and small family owned businesses are of vital importance to a sustainable economy. When buying from these local farmers you keep them on their land where they can earn a fair living, it preserves the heritage and supports our country's great traditions.
Just arrived! Gourmet Food samples from Puglia, Italy
Italian food products
Gourmet food samples from Puglia, Italy. Once we have tasted the samples, we will determine which products we will be using in our kitchen and sell through our webshop. We only search for the best products available.


Beautifully presented, ideal as a gift for your foodie friends.


For more information about the products, contact us at: [email protected]
Join us for Dinner in our Supper club/Pop-Up restaurant!
Tablesetting at the supper club
Sunday night dinner at the Supper Club/Pop-Up restaurant
September, the after summer season, has been quite busy with both cooking classes and dinners at La Serviette Blanche's pop-up restaurant/supper club. Our supper club dinners are becoming very popular with both locals and visitors.
Dinner at the supper club, La Serviette Blanche
The warm welcome, the good food, nice people and the laid back ambience are the ingredients for an enjoyable evening.


Our Sundaynight dinner featured succulent slow roasting leg of lamb with yogurt cucumber sauce, a sweet and savoury quinoa & bulgur salade and homemade Moroccan flatbread. The lamb slow roasts to perfection in it's own juices and a tasty Moroccan marinade. After hours of roasting it's fork tender and gracefully infused with all the delicate herbs and spices.


Instead of the regular Provencal apero nibbles, saucisson and olives, we served a creamy hummus with piping hot flatbread!. Casually break of a piece of the flatbread and slatter it with the creamy goodness! Delicious.
Hands-On Cooking Class
The small but bustling kitchen of La Serviette Blanche in Cannes, has been welcoming people from all over the world who attend our private cooking classes. A very rewarding experience because you get to share your knowledge and passion for food and cooking with very nice people. During yesterday's cooking class we welcomed a guest from New Zealand.
Cooking class, La Serviette Blanche kitchen
We started at the market where we bought the fresh ingredients to prepare the 4-course lunch menu. The selection at Marche Forville is fabulous! Figs......they looked so delicious, how can you not include an entree featuring figs?


We did not hesitate and went for the figs. As a starter we prepared a traditional French goat cheese and fig salad with a drizzle of honey.
Romantic dinner for two
It's always a great pleasure to meet people from all over the world. Our private diningroom has become an ideal place to share lively conversations, meet nice people and enjoy great food and wine.


Yesterday we once again welcomed some lovely guests to the Supper Club/Pop-Up restaurant. They came all the way from Florida to enjoy a vacation on the Cote d'Azur and dinner at La Serviette Blanche. How did they find us......? On Tripadvisor.

A warm welcome with a traditional apero (aperitif) olives and saucisson.

The menu was light, ideal for a late summer dinner. For more details you can follow us on Facebook.
A very nice evening indeed.
MAGAZINE PUBLICATION (September, 2012)
We proudly present our full-color business listing (see page 45) in this beautiful travel and lifestyle magazine, VACAZA - check it out! The magazine is published every 3 months and available on news-stands in the Netherlands.
Just click on the link below and enter the world of culinary travel & lifestyle.
http://issuu.com/vacaza.com/docs/vacaza-culinary_and_creative_escapes-editie03_03_d/45
Fresh cranberries, Thanksgiving
CRANBERRIES.
Fresh cranberries, an equally important component of a delicious Thanksgiving meal.
For recipes, follow us on Facebook.
HAPPY BIRTHDAY! August 26th, 2012
A memorable day. On Sunday one of our repeat guests, celebrated her birthday in our diningroom. A lively evening with lots of laughter, a delicious Mediterranean menu and great regional wine.
Birthday celebration dinner
The evening started with a traditional "Apero" = aperitif and some miniture tomato farcies filled with a smooth tuna cream. The starter of the 3-course menu was homemade chicken liver mousse with a gelee of cognac and toasted brioche bread. Main dish was poached salmon in olive oil, Hollandaise sauce, polenta squares and a Mediterannean roquette salad with honey mustard dressing.


The dessert a rich Soupe de Peche made from fresh flat peach and fromage blanc. The plates were empty and the guests content. We can look back at a very pleasant and successful evening. For more details, please visit or Facebookpage: https://www.facebook.com/Cannescooking
Saffran syrup, gourmet, foie gras, Provence product
A VERY SPECIAL AND SOPHISTICATED INGREDIENT FROM THE PROVENCE!!!


During ou last visit to the Provence in search of some new products and unusual flavours, we came across "Syrop de Safran" a unique syrup with many uses which we will be using in one of our dishes soon.


It's delicious over sauteed foie gras, cakes, roasted vegetable and even icecream.
What is saffron?


Saffron is an agricultural product and part of the spice family . It comes from the cultivation of the Crocus sativus Their stigmas are often dried and used in cooking as a seasoning or as a coloring agent. Saffron, which was for decades the most expensive spice in the world
Saffron is widely used in Arab, European, Indian , Iranian and Central Asian kitchens. Saffron is used in dishes as diverse as cheese, sweets, some currys, liqueurs, soups and meat dishes. Saffron is used in India , Iran , Spain and other countries as a condiment for rice .In Spanish cuisine, it is used in many dishes such as the famous paella Valenciana. Saffron is also used in bouillabaisse, a spicy French fish soup and in risotto alla Milanese.


The Moroccans use it it in their tagines as well , including keftas (meatballs and tomato ) or mrouzia (sweet and savory dish made ​​from mutton or lamb ). Saffron is also a central ingredient in the herb mixture cThose familiar with this fine condiment, will crumble and pre-soak the saffron for several minutes before adding it to their dishes. This process is used to extract color and flavor in a liquid ( water or sherry for example). The solution is then added to the dish before baking.


Because of its high price, saffron was often replaced or mixed in with the traditional cuisines of safflower also known as "false saffron") or turmeric ( Curcuma longa , also known as "Indian saffron" chermoula which is used in many Moroccan dishes. Also the Indian cuisine uses saffron in biryanis.
Top quality coffee, rue Hoche, Cannes
Most people have coffee or tea after their meal. A good quality coffee makes a lot of difference don't you agree? I have been exploring the various freshly ground coffees available and I finally came across a wonderful melange that has been very well received with the diners at La Serviette Blanche. Rue Hoche. a very pleasant street here in Cannes lined with many different types of shops and restaurants, you'll find a great store/cafe that sells a nice selection of coffee beans and freshly ground coffee.


Ask for the house melange and you'll be pleasantly surprised by the intense flavour. At La Serviette Blanche we search for the best ingredients, it takes time and lots of effort to finally find what you are looking for but.....it's worth it!


At the Supper Club we use the "French Press" which claims to produce the best coffee around. When using a French Press, the coffee should be medium ground because too fine means clogging the filter. Give it a try, you'll like it!
/